It's time for another book review! The last one was about
Redeeming Love
. I hope some of you picked up the book and read it! If you have since then, please comment me and tell me if you enjoyed it! Today my book of choice is... drum roll..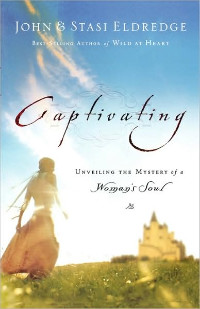 Captivating By John & Stasi Eldredge
This book is very well known and some even consider it controversial. However, it is still a great book to dive into and create your own opinion about! Here is a small synopsis:
This book is a follow up of John Eldredge's book Wild at Heart, basically the men's version of Captivating. John & Stasi try to speak to the deep down tired Christian woman in this novel. They write about the design of a woman by God and their purpose. They focus on what they believe to be women's three main desires; to be romanced, to play a role in her own adventure, and to unveil beauty. They also encourage men to discover the secret of a woman's soul and to delight in the beauty and strength that women were meant to offer.
I personally LOVED this book! I heard of it through my small group at church back when I was in the youth group. This book really did speak to me and I think John & Stasi are right in their beliefs. They bring scripture and biblicial stories into each theory they present and even relate them to popular movies or stories so we can better understand. I've read this book probably 5 times and still want to read it again. I have things underlined, highlighted, etc etc. I've loaned this book to my friends and my mother and even have given it to my boyfriend so he could read it and better understand me! After reading this book, I picked up the men version, Wild at Heart, and feel like it did help me understand God's meaning and creation of men as well. If any of you have not read this book and can't find a copy of it please let me know and I will be happy to mail you mine! Let me know if you read this and how you like it or if you have already have!
I'll leave you with a small quote from the book:
"
You really won't understand your life as a woman until you understand this: You are passionately loved by the God of the universe. You are passionately hated by his Enemy.
And so, dear heart, it is time for your restoration. For there is One greater than your Enemy. One who has sought you out from the beginning of time. He has come to heal your broken heart and restore your feminine soul." Pg. 91